"During my time working directly with Nichole on a web page redesign, she consistently exceeded my expectations in terms of work ethic, reliability and overall productivity. She often helped find solutions to problems by looking at the issue in a different context. She offered several alternative ideas and was always open to feedback. She easily took on new challenges and looked for opportunities to improve her knowledge related to the task at hand. Her skills in graphic design and photography were also a huge benefit in the overall design and layout of the finished project. Several of her photos were incorporated into the web page, creating a nice customized look. Her friendly and helpful attitude was also refreshing and welcomed."
-Ric Jenkerson, President & Co-owner
Salon Thirteen Website + Logo Redesign
Salon Thirteen is a hair salon based in Portland, OR that specializes in haircuts, color, highlights, and conditioning treatments. They've been in business since 2005 and wanted to update their WordPress blog to a standard website.
Since websites became popular in the late 90's, people go online by a variety of devices (Smartphones, tablets, laptops, and desktops) to search for information related to an item or service. 
For Salon Thirteen, I was tasked to redesign their WordPress site and logo. According to feedback from their users, the site had little content leaving visitors to contact salon by phone or social media to get answers to their questions.  Many of the inquiries focused on prices, directions, availability of hairdresser(s), and events happening at their store.
​​​​​​​
To und
erstand the wants and needs of the clients' new website, I led a discovery session. This involved reviewing the site to determine what changes, updates, and additions were needed
. Afterward, we discussed the design elements for their website and visited competing hair salons for some inspiration. 
Based on the owners feedback, I started mapping out the site content. To simplify the menu, I rearranged the navigation bar to display the six categories and selected "About" in main menu to hold three additional subcategory pages.

With the simplified website navigation in place, I created wireframes of the site to communicate with Salon Thirteen about how to best layout the site's content.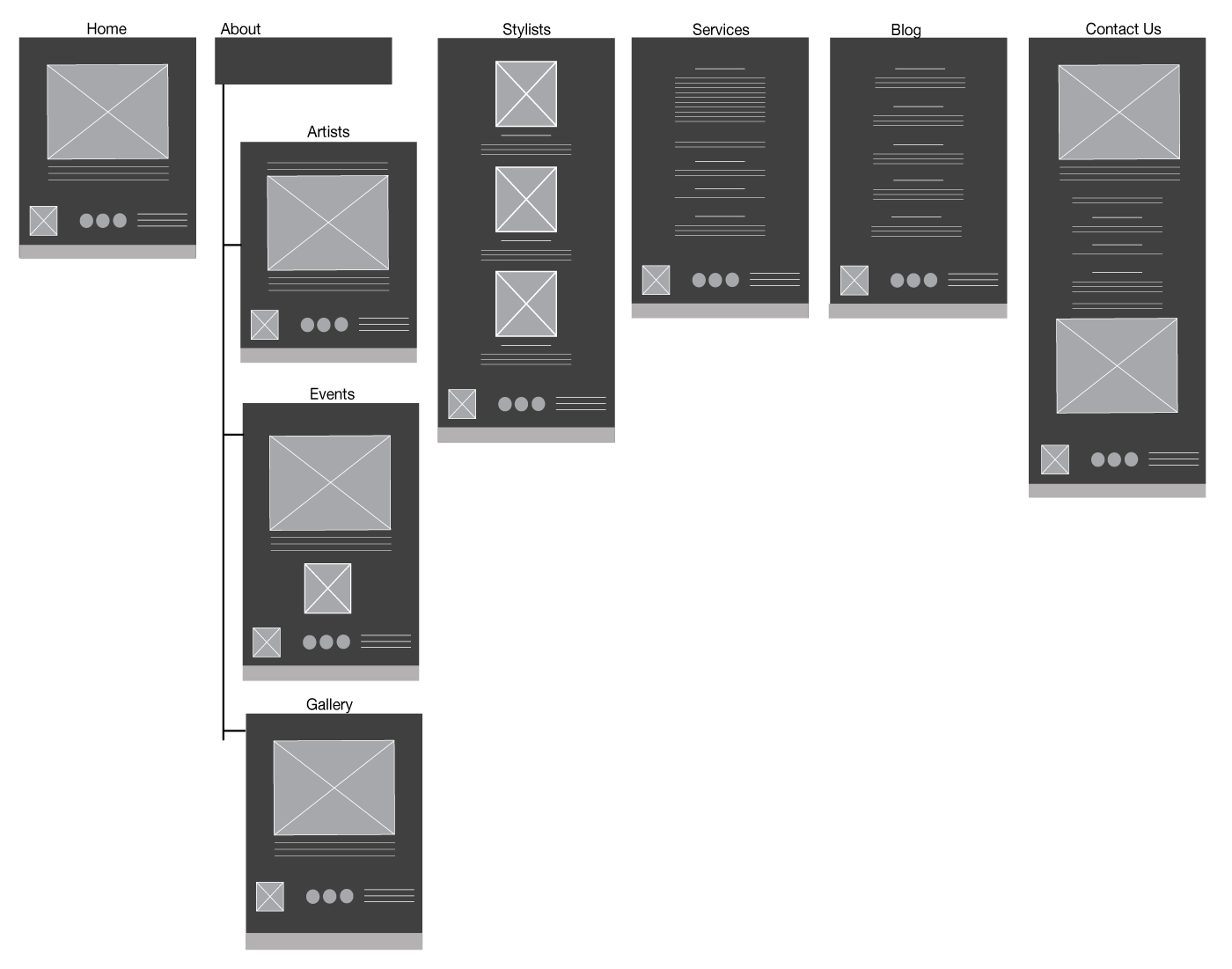 To establish the flow of this website, a mood board was created and presented to my clients at our second meeting. 
With notes from our discovery session, I selected photos of flowers, the salon, and business card for inspiration to create a color palette. The clients wanted green and orange incorporated into the design of the website representing calm and passion.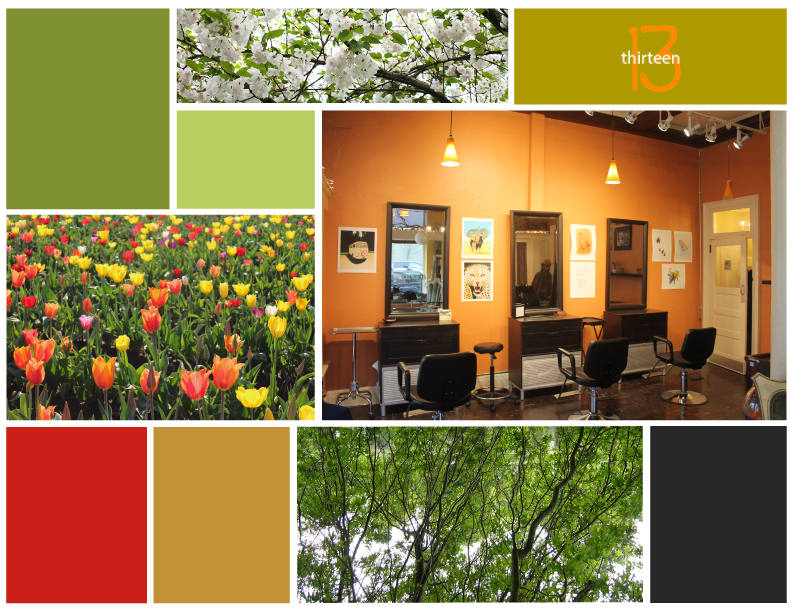 Once I received approval on the design structure of the project, I started developing the website.  I coded the pages in PHP and designed the layout using CSS. 
During the testing stage, I discovered WordPress doesn't accept custom themes because Salon Thirteen was set up as a free account. Unfortunately having a free account only provides limited approved themes, color choices, fonts, and layout. To use the custom theme I created, my clients would need to pay fees to set up hosting, access to custom themes, and security.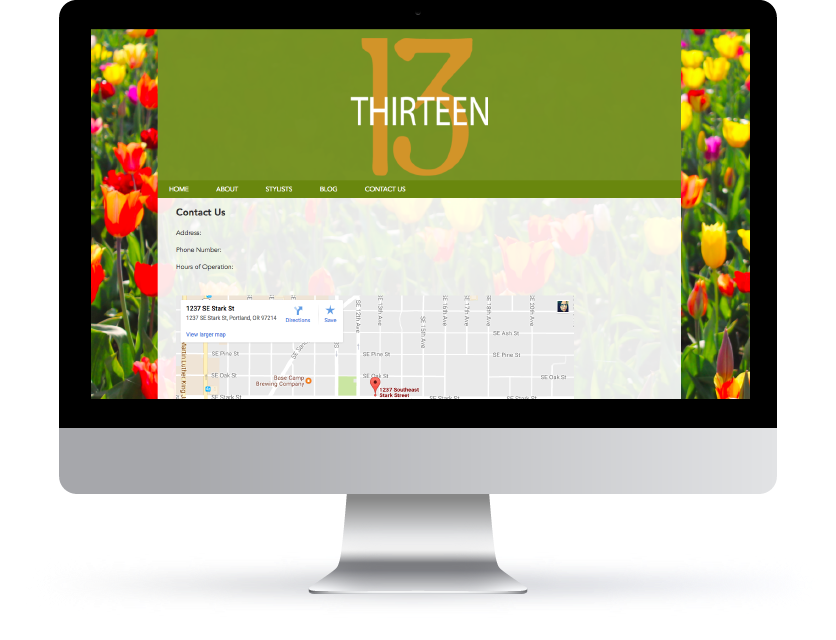 After researching alternatives, I emailed the clients about the situation I faced with uploading the custom theme. At our meeting, I presented a list with pros/cons between a free and paid account so they can determine what option worked best for their website. Two days later I was informed they wanted keep their free account and asked I find a theme that closely matched.
Redesigned website & Logo
Through a round of revision, I found a theme for their WordPress site and started editing/adding CSS, pages, images, colors, and connecting social media channels to the website.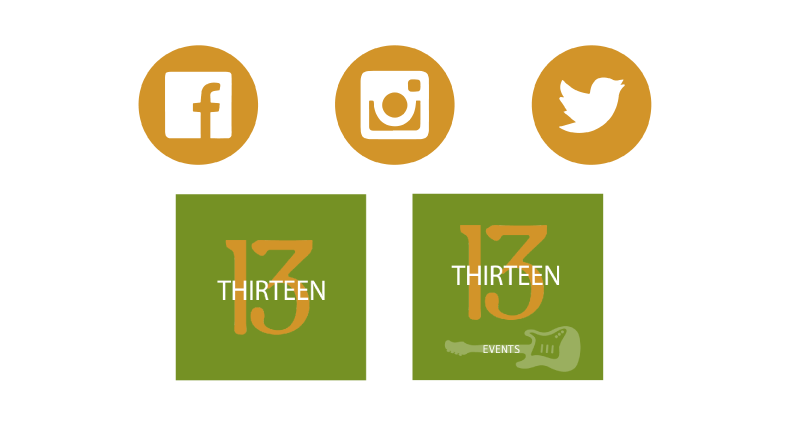 To maintain consistent branding, I oversaw the creation of all print and digital assets.